I've been feeling a little down lately. I'm probably not alone in that with all that's going on in the world, but a lovely drive along the Blue Ridge Parkway always helps to brighten my mood, so that's what the Gnome and I did a few days ago.
At 469 miles long, the Parkway is the nation's longest linear park, stretching from the Great Smoky Mountains National Park in far southwestern North Carolina through the Shenandoah National Park in Virginia. Near Charlottesville, the Parkway turns into Skyline Drive which will take you another hundred miles or so to Front Royal, about 70 miles west of Washington, DC. Both drives are extraordinarily scenic.
But don't expect to travel the full distance of the Parkway in a day. Or even two. With a 45-mph speed limit and winding roads along ridge tops, you couldn't if you tried. But with breathtaking vistas all along the way who would want to? You don't travel the Parkway to get somewhere fast—or necessarily to get anywhere at all. You travel it for relaxation and for the bucolic scenery. You travel it to stop at overlooks and take in spectacular views of valleys and mountains, of trees and wildflowers, of blue skies (sometimes) and clouds. You travel it to stop for a picnic alongside a mountain creek or to take a hike along one the many trails through the woods. The Parkway is a place to slow your pace and soak up Nature's glory. Nary a billboard will mar the scenery. You'll find no aggravating traffic lights, not even a stop sign. Just 469 miles of calm.
There's a lot of history along the Parkway, not all of it particularly uplifting. Folks who lived in the way lost their homes for the most part, and long-standing communities vanished. Today, you will see remnants of those homes and communities in fascinating educational exhibits.
At the same time, Parkway construction created hundreds of jobs during the Great Depression when no other jobs were to be had (as well as hundreds if not thousands more since.) All but the most specialized labor was local. Throughout its 86-year history, tourist dollars from Parkway travelers have filled coffers of nearby towns with untold dollars. And more than half a billion (that's billion–with a B) have enjoyed its beauty ever since. A 2010 issue of Smithsonian Magazine noted that 16 million people visited the Blue Ridge Parkway the previous year, compared to about 3 million each for Yellowstone and Yosemite national parks.
Some the Parkway's history involves my family. My Uncle Bill had the contract to construct several of the historic stone tunnels as well as the original tower at Mount Mitchell. A portion of the Parkway sits along the ridge of the mountain behind the home where my mother and her siblings grew up in Jackson County, North Carolina—the very mountain they climbed to pick blackberries for their blackberry and biscuit breakfasts.
Begun in 1935 (when my mom was a teenager), the Parkway was not completed until 1987 (when my own children were teenagers) when the final segment was built around Grandfather Mountain in a stunning piece of engineering genius to protect the fragile ecology of the area.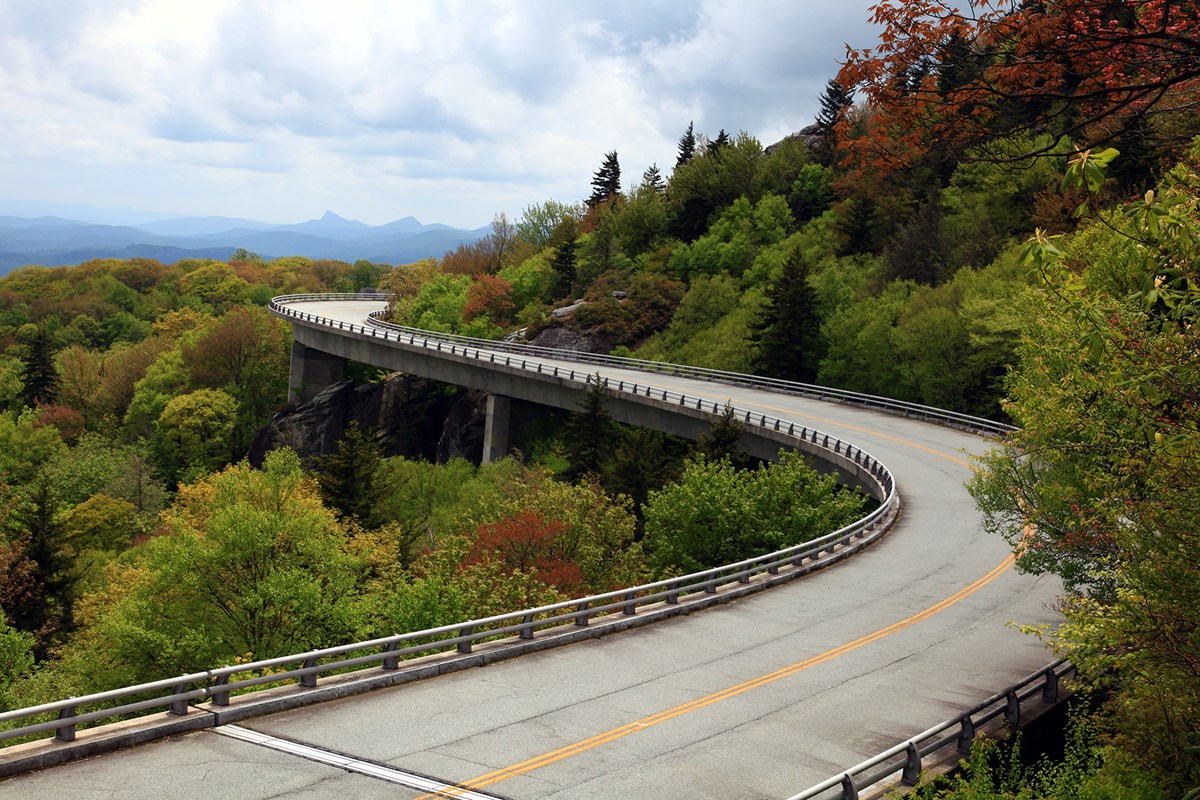 I consider myself one of the most fortunate of souls to be no more than thirty minutes from a Parkway entrance. And when I get there, I realize I'm in a place that connects my present to my mother's past, even though I'm maybe a couple of hundred miles, Parkway style, from her childhood home. It's a special feeling.
Private land still borders the skinny ribbon of roadway, and astute travelers might notice inconspicuous roads going off to the left or right as they pass any number of pastures filled with cows. It's hard to drive along the Parkway without sighting deer and wild turkey, too. Lucky folks will even come across a fox or a black bear.
On our recent trip, we headed north on one of my favorite sections of the scenic drive. No need to try to explain it. These photos tell the story.
We stopped at the Blue Ridge Music Center near Galax, Virginia, to listen to some good old-fashioned bluegrass music. You can catch live performances every day of the week from noon until four June through October. What a treat! (All the musicians volunteer their time, too.) We spent about an hour in the museum learning about the history of old-time and bluegrass, whose home is in these hills.
As we made the return trip, we stopped by Jeffress Park and hiked the sometimes-treacherous trail through the woods and along the streambed of Falls Creek on its way to The Cascades, an amazingly powerful waterfall. I wish you could hear the roar and see the frothy lace. But I was as impressed by the shallow stream that made its way to the noisy cascade. It was such a restful place where I felt the cool air swirl around my ankles and envelop body and soul as I caught scents of damp earth and mushrooms and leaf litter. It was, as it always is, magical. And I came home uplifted.